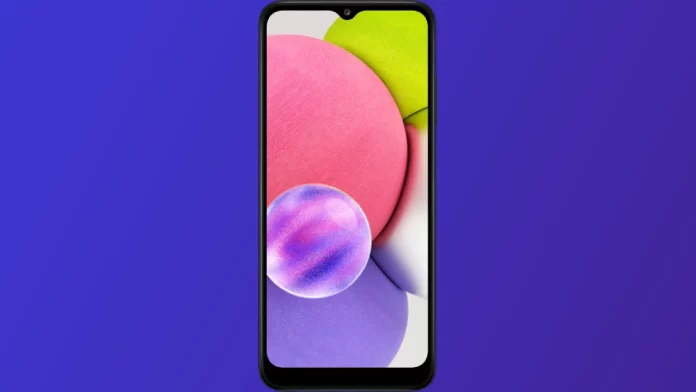 That's cheap but quite popular model and if you want to take a screenshot, you can make it as on any other smartphone!
The Samsung A03s, like most modern smartphones, provides a simple and intuitive method to take screenshots. Screenshots allow you to capture anything you have on your screen, perfect for sharing moments from your favorite apps, saving important information, or showing your home screen setup to friends. Here's how:
How to screenshot on Samsung A03S
First, navigate to the screen that you want to capture.
Next, press and hold the power button and the volume down button at the same time. These buttons are typically located on the right side of your Samsung A03s.
Hold both buttons for about 2 seconds until the screen briefly flashes, indicating that the screenshot has been taken.
Once captured, the screenshot will be automatically saved to your device's gallery where you can edit, share, or delete it as per your preference.
How to take screenshot in Samsung A03s without power button?
On the Samsung A03s, if you find yourself in a situation where the power button is not accessible or not functioning, you can still capture a screenshot using alternative methods. Here are two possible ways to take a screenshot without using the power button:
Method 1: Using the Palm Swipe Gesture
Samsung devices offer a handy feature called Palm Swipe Gesture, which allows you to take a screenshot by swiping your palm across the screen. Ensure that this feature is enabled in your device's settings by following these steps:
Open the "Settings" app on your Samsung A03s.
Scroll down and tap on "Advanced features".
Look for and select "Motions and gestures".
Locate the "Palm swipe to capture" option and toggle it on.
Once the Palm Swipe Gesture is enabled, you can use the following steps to capture a screenshot:
Open the screen or app you want to capture.
Extend your hand and position it vertically on one side of the screen, with the edge of your palm touching the screen.
Swipe your hand horizontally across the screen, making sure to touch the surface of the screen.
You should see a visual animation or hear a shutter sound, indicating that the screenshot has been successfully captured.
The screenshot will then be saved to your device's gallery.
Method 2: Using Assistant Menu
Samsung devices offer an accessibility feature called Assistant Menu, which provides on-screen navigation buttons and additional functionality. You can utilize this feature to capture a screenshot without relying on the physical power button. Follow these steps to activate and use Assistant Menu:
Open the "Settings" app on your Samsung A03s.
Scroll down and tap on "Accessibility".
Look for and select "Interaction and dexterity".
Find and enable "Assistant menu".
Once you have enabled Assistant Menu, you can follow these steps to capture a screenshot:
A small floating icon will appear on your screen. Tap on the Assistant Menu icon.
A menu with various options will appear. Tap on the "Screenshot" button.
The screenshot will be captured and saved to your device's gallery.
Using the Assistant Menu, you can also access other navigation functions without using the physical buttons, making it a convenient alternative method for taking screenshots on your Samsung A03s.
These alternative methods allow you to capture screenshots on your Samsung A03s even when the power button is inaccessible or not functioning properly.
How to scroll screenshots
Sometimes, a regular screenshot isn't enough, especially when you want to capture a long article or a chat thread. This is where the Scrolling Screenshot comes into play.
Here's how you can capture scrolling screenshots on your Samsung A03s:
Navigate to the screen you wish to capture.
Press and hold the power and volume down button, just like you're taking a regular screenshot.
Once the screenshot is captured, click on the "scroll capture" or "scroll" button in the options that appear at the bottom of the screen.
The screen will automatically start to scroll down, capturing multiple screens. Tap the screen when you want to stop.
The screenshot will then be saved to your gallery, where you can view, edit, and share it.
How to record a Screen on Samsung A03s
Screen recording is a handy feature when you want to record a sequence of actions. For instance, you might want to record a game play to share it with friends, or create a tutorial.
Here's how to use the Screen Recording feature on your Samsung A03s:
Open the control panel by swiping down from the top of the screen.
Swipe left to find the "Screen Recorder" option.
Tap on it to start recording. A countdown will appear, and then your device will start recording everything that happens on your screen.
To stop recording, swipe down to open the control panel again and tap on the "Screen Recorder" button or the stop button in the floating controls on the screen.
The recorded video is saved to your gallery or the location you set up in the screen recording settings.
How to use Split Screen mode
Split Screen Mode allows you to have two apps open and active at the same time. This can be particularly useful if you want to multitask on your phone. Here's how to activate this feature:
Open the first app you want to use in Split Screen Mode.
Tap the recent apps button (usually found to the right of the home button).
Locate the app you want to split screen with, then tap on the app's icon and choose "Open in split screen view".
Now choose the second app from the recent apps list or from your app drawer.
You'll now see both apps running side by side on the screen. You can adjust the size of each window to fit your preference.