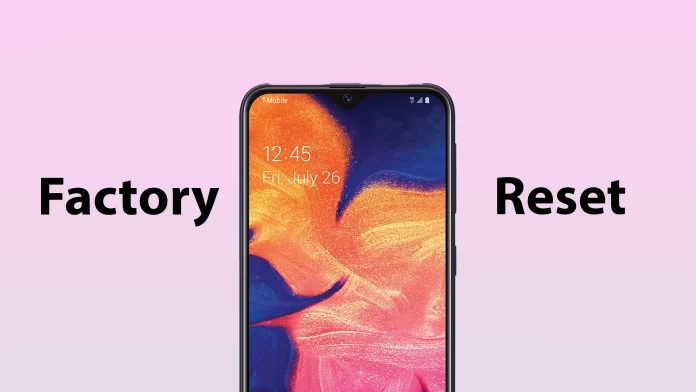 Performing a factory reset on your Samsung A10e can be a helpful solution in various scenarios. Whether you want to troubleshoot software issues, remove personal data before selling or giving away your device, or simply start fresh, a factory reset restores your Samsung A10e to its original factory settings. In this article, we will guide you through the process of performing a factory reset on your Samsung A10e.
How hard reset the Samsung a10e ?
If you want to factory reset your Samsung A10e but don't have the password, you can still proceed with the reset by following these steps:
Power off your Samsung A10e completely.
Press and hold the Volume Up button and the Power button simultaneously. Keep holding both buttons until the Samsung logo appears on the screen.
Once the Samsung logo appears, release both buttons and wait for the recovery menu to appear.
Use the Volume Down button to navigate through the options on the recovery menu. Scroll down to highlight and select the "Wipe data/factory reset" option.
Press the Power button to confirm your selection.
On the next screen, scroll down to highlight and select the "Yes" option to confirm the factory reset process.
The factory reset process will begin, and your device will erase all data and settings. This may take a few minutes.
Once the reset is complete, the recovery menu will reappear. Highlight and select the "Reboot system now" option.
Your Samsung A10e will restart, and you will be taken to the initial setup screen.
Please note that performing a factory reset without a password will erase all data on your device, including apps, settings, and personal files. This process cannot be undone, and the data cannot be recovered. Ensure you have a backup of any important data before proceeding.
How to soft reset Samsung A10e in a few steps
Performing a factory reset erases all data and settings on your device. It is crucial to back up any important files, contacts, or data before proceeding with the reset. Once the process is completed, the data cannot be recovered. Before initiating a factory reset, consider backing up your important data. You can use Samsung's Smart Switch app or third-party backup solutions to safeguard your contacts, photos, videos, and other files.
Open the "Settings" app on your Samsung A10e. You can find the app in the app drawer or by swiping down the notification panel and tapping the gear-shaped icon.
Scroll down and select the "General Management" or "System" option in the Settings menu, depending on your device's software version.
Locate and tap on "Reset" or "Reset options" to proceed to the reset options screen.
Tap on "Factory data reset" or "Reset" to access the factory reset settings.
Review the information provided about the consequences of a factory reset.
If desired, toggle the "Backup my data" option to enable or disable the automatic backup of app data and settings to your Google account.
Scroll down and review the list of accounts associated with your device. Keep in mind that factory resetting will remove all accounts from your device.
Tap on "Reset" or "Reset phone" to confirm your decision and begin the factory reset process.
Enter your device's security code or pattern lock if prompted.
Review the warning message and select "Delete all" or "Reset" to confirm your intention to erase all data and settings.
Your Samsung A10e will begin the factory reset process, which may take a few minutes to complete.
Set Up Your Device
After the factory reset is complete, your Samsung A10e will reboot and present the initial setup screen. Follow these steps to set up your device:
Language Selection: Choose your preferred language from the available options on the screen. Tap on the language to select it, and then tap "Next" to proceed.
Wi-Fi Connection: Select your Wi-Fi network from the list of available networks. If prompted, enter the Wi-Fi password and tap "Connect" to establish a connection. If you don't have access to Wi-Fi now, you can skip this step and connect later.
Google Account Sign-In: If you have a Google account, sign in with your credentials. This step allows you to access Google services and restore your synced data, such as contacts, calendars, and app data. Enter your email address and password, then tap "Next." If enabled, you may be prompted to verify your account through a two-factor authentication process.
Terms and Conditions: Review the terms and conditions presented on the screen. Scroll through the text and tap "I Agree" or "Accept" if you agree to the terms. You may need to scroll to the bottom of the page before the "Agree" or "Accept" button appears.
Optional Settings: You may be asked to configure additional settings based on your preferences on the following screens. These may include options such as location services, usage and diagnostic data, personalized ads, and more. Customize these settings according to your preferences and tap "Next" or "Continue" to proceed.
Restore Data and Apps: If you backed up your data and apps in Step 1, you can restore them during setup. Choose the restore option provided on the screen and follow the on-screen prompts to restore your data and apps from the backup.
Additional Setup: Depending on your device and software version, there may be additional setup steps, such as setting up a secure lock screen (PIN, pattern, or fingerprint), enabling device encryption, or setting up additional accounts (email, social media, etc.). Follow the on-screen prompts to complete these steps as desired.
Completing Setup: Once you have completed the necessary setup steps, your Samsung A10e will finalize the setup process and take you to the home screen. You can now begin using your device with the restored settings and data or start fresh with the default settings.